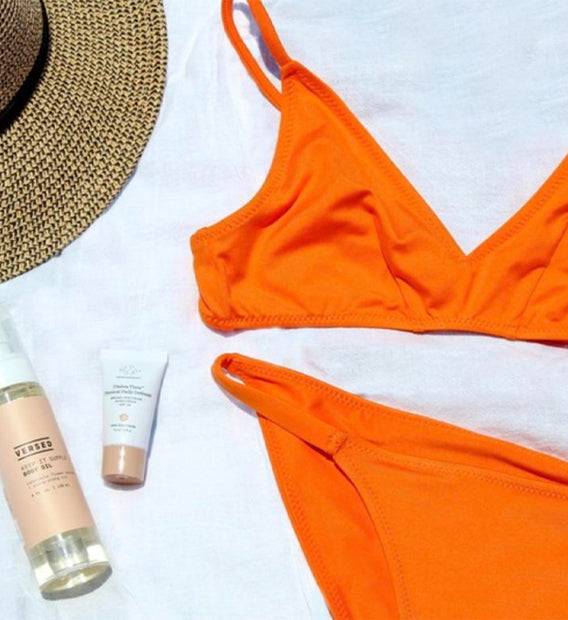 There are few things quite so nerve-racking as stripping down and facing those fluorescent fitting room lights after a winter of freezing weather, Netflix marathons, and maybe a little too much comfort food (hey, we're all human). As an athlete and entrepreneur turned swimsuit designer, I'm always traveling, and I live in my bikinis year-round—so I know firsthand how stressful it can be when swimwear *doesn't* work for your body type. But slipping on a suit that instantly fits, flatters, and flaunts your shape in the best possible way is a true confidence boost, and that's true no matter what size is printed on the tag. With my new line of swimsuits, Monarch Reign, my mission is to help every woman look and feel like royalty on the beach. Launching this Summer, each piece features luxe touches like embroidery, beading, and mesh to showcase the individuality that makes every woman beautiful. Creating Monarch Reign gave me an insider's perspective on which swimwear worked best for various body types—and how seemingly small design details could be used strategically to make a huge impact. So, whether you're rail-thin, athletic, curvy, petite, pear-shaped, or anything in between—breathe a sigh of relief and get ready to make this your best shopping trip yet…Without further ado, here are my tips for finding the best suit to suit you:
PETITE:
For petites, finding the right bikini bottoms will put your look over the top: Create the illusion of length by opting for a high-cut bottom. This trick will make your legs look sky high, while also drawing the eye away from the torso.
SMALL CHEST:
Embellishments are a small chested girl's best friend. For a bombshell look, create balance by going for flirty frills, beading, and ruffles up top. For added oomph and a push-up effect, look for padding in the cups.
CURVY STOMACH: 
Whether you're apple shaped, dealing with bloating, or simply want to whittle your middle, there are plenty of options to camouflage a curvier belly. A onepiece with a plunging neckline is one of my favorite options in this case— the low-cut front draws the eye up, keeping the tummy out of the spotlight; styles with ruching throughout the torso also work well. For a retro flair, choose a bikini with high-waisted bottoms and channel your inner pinup.
LARGE CHEST:
Alas, when it comes to curvier chests, a string bikini is not going to cut it… After all, it's hard to enjoy a day at the beach or pool when you feel like a wardrobe malfunction waiting to happen. The great news is there are more options than ever for larger cup sizes, so it's never been easier to find cute suits that are both sexy and supportive. Underwire is the undercover star here, so look for tops that have it. And your most flattering fit, be sure to look for thicker suit straps and double-stitched bands as well…These often-overlooked details will keep your girls lifted, and (bonus!) also create the illusion of a smaller waistline.
ATHLETIC:
As an athlete, you work hard for your physique—and when it's time to hit the beach you want to highlight your best assets. Two-tone or mix and match pieces are a great way to subtly show off certain areas of your body by creating contrast. And if you want to create the illusion of narrower shoulders while also showing off toned abs, a halter-top bikini will suit you perfectly.